Latest from the Success Blog
If you haven't already done it, read my original series of articles on trust. Here ...

Read More »
Business Force Multipliers: How Interrogators, Special Forces Operators, and Hostage Negotiators Might Build a More ...

Read More »
Why do we spend huge amounts of time and energy training for life and preparing for life without ever doing the thing we have been endlessly training to do?

Read More »
Business Force Multipliers: How Interrogators, Special Forces Operators, and Hostage Negotiators Might Build a More ...

Read More »
But here's why…. and what to do about it….. " Every now and then I'm ...

Read More »
Why do meeting planners, business leaders, academic institutions, non-profits and trade associations hire David Frees again and again as a keynote speaker and/or communications consultant?
It's simple. He delivers what they want, he is easy to work with and he adapts his programs to the specific needs and goals of his audience. In short, he is an outstanding, practiced and professional speaker. What's more, audiences love him. He takes the risk out of booking a speaker or trainer.
MORE INFO – WATCH VIDEO
2016 3 DAYS TO SUCCESS MASTERMIND IN PHOENIX
(OCTOBER 5TH – 6th, 2017 – VIP SESSION ON OCTOBER 7TH)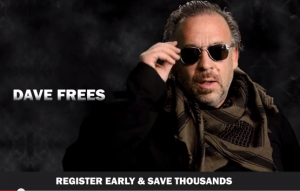 The Super Early Bird Special Is Available If You Have Been Meaning To Come DO IT NOW.
Three Days to Success Has Helped Hundreds To Radically Boost Their Business And Professional Practice Profits In As Little As Two or Three Days And For Less Than A Few Thousand Dollars
GET THE BEST PRICE NOW